The Human VS AI Campaign – A Peek Behind The Scenes
The entire Steve team is pumped today like never before. Why? One of our most awaited campaigns is going live today and we are super excited!
Is this our first video campaign? No, we have been constantly experimenting with various video series for the past year and have been getting a lot of support from our users for our content. However, this one is big. This one is ambitious. And, this one has us expanding our creative boundaries more than ever!
We are proud to present: Human Vs AI – The Iconic Videomaking Battle
This is an experimental video series campaign where we take up viral, iconic videos made by brands and experts and try to recreate them on Steve. Yes! Ads and videos that must have cost a fortune to make and taken weeks to create would now be put to test on a script-to-video tool!
Our first video in the series is out now and we are very proud of how it has turned out. Watch it here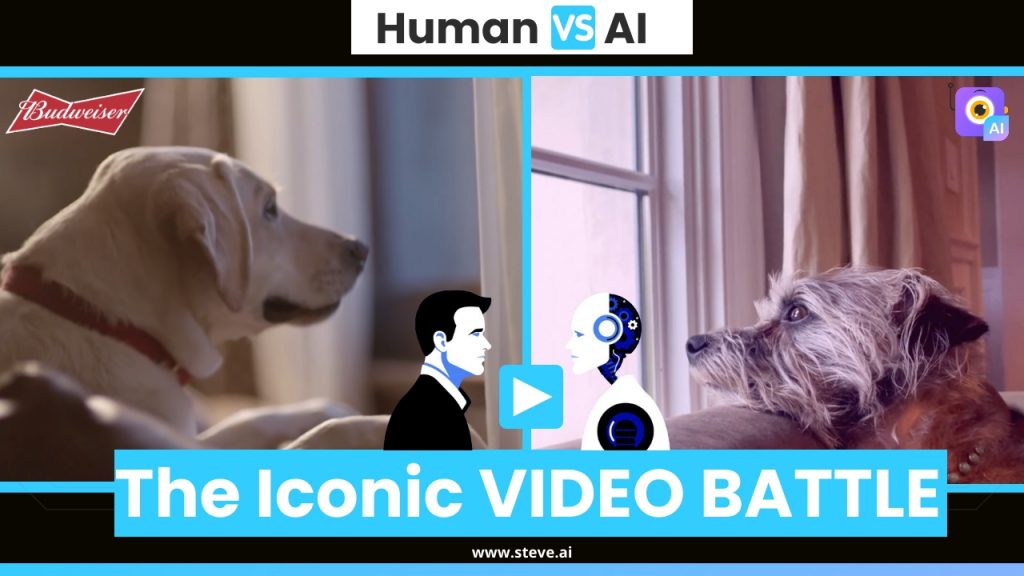 How incredible was that?
Now, let us delve into the background of this campaign and look at some valuable lessons we learnt about the AI-Human partnership through this video.
How it all started
The whole world is talking about AI today. There is a huge debate about whether or not it will replace humans, how it will change the way we live and work, and how it will impact various industries, big and small.
However, this subject is not new at Steve. As an AI tool, we have always been talking about these topics and have constantly been exploring how AI can be the best partner for human efforts. We explored all those manual parts of videomaking that AI can take over, leaving humans free to be more creative than ever.
Along with our CEO Raghav, we also set goals to make Steve as efficient as human videomaking experts, if not more, to compete with the best videos ever made in terms of quality and efficiency.
All this and some cat-level curiosity made us take up the challenge to create iconic viral videos with nothing but Steve and its script-to-video abilities.
What we learnt
As we set out to turn this idea into a reality, we learnt a lot about AI and its potential.
Finding a video that Steve could recreate was our first step. Steve has many strengths – animation, great AI engine, lip-sync feature, extensive libraries, and so on. However, for this campaign, we were looking at a combination of features and how our strengths would intersect with famous videos.
We learnt that Steve is great with videos that have strong stories, videos that elicit strong emotions. And, that is how we zeroed down on the Budweiser ad.
Now as we went on to actually make the video on Steve. We did two main things to get a great output.
One, we tweaked the input script a bit since most scenes in the ad do not have text on screen. We have attached the script we used below, in case you want to try it out too.
Input script:
Scene 1 – Welcoming Dog home
Scene 2 – Playing with Dog
Scene 3 – Jogging with Dog
Scene 4 – Spending Time with Dog
Scene 5 – Dog playing with water
Scene 6 – Leaving Dog at home
Scene 7 – Driving out
Scene 8 – Partying
Scene 9 – Sad Dog
Scene 10 – Dog waiting
Scene 11 – Sad Dog with toy
Scene 12 – For some, the waiting never ended
Scene 13 – But we can change that
Scene 14 – Dog excited at the door
Scene 15 – Dog kissing
Scene 16 – Make a plan to make it home.
Your friends are counting on you.
Scene 17 – Dog Kissing
Scene 18 – Brand outro
Pro tip: Toggle on the "Hide text" button on all scenes except for scenes 12, 13 and 16
Two, we downloaded the original Budweiser ad music and added it to the video on Steve.
These two things did the trick for us and we were super happy to have conveyed the storyline of the original video in our own way without compromising on the emotional connect.
Challenges with AI
Working with AI had its challenges too.
1. In the Budweiser ad, the story is of one person and his dog. With AI, we could not really maintain that continuity of the same person and the same dog.
2. We could not do a scene-to-scene match of the original ad. But the AI did a great job of selecting visuals that put the point across nevertheless. But, the huge media library helped us choose great visuals that still told the story beautifully and maybe even added a bit of diversity to it.
3. While we tried this experiment on our free version too, our Pro version worked best. But, that was the only money we spent on the video and is a fraction of what the original video would have cost.
In the end, even after tackling these challenges, we saw that it took us no more than 10 mins to make the video. And for the no-shoot advantage, the time and cost advantage that AI offers, the challenges were more than justified in our opinion.
The Conclusion
As we have mentioned in the comparison video, there is no substitute for human creativity. The ideation, the intent, the message, the emotional connect….all these aspects of the video are the results of human creativity. However, once you have an idea, the basic script and flow, AI can be a powerful tool to take over and save you tons of time and money while creating super impactful videos. That's what Steve proved to us with this experiment.
Follow us on our journey as we continue this series and take up more videos to recreate. If you have an iconic video that you want us to recreate, go on and suggest it to us on any of our platforms and we will make sure to take it up and give you the verdict.
We hope you enjoyed the video and reading about its making. See you soon with the next one in the series.
Happy videomaking!