How to go from Text to Instagram Video in seconds with AI
We live in times where the word "viral" is as terrifying as it is a ticket to stardom! With deadly COVID making us dread even uttering the word, there's the digital world where "viral" is the ultimate success metric that is desired and many a times even aspired for.
Now, there is of course no set rules or process to create a piece of content that can go viral. That is, in fact, part of the appeal that virality has. But, there are definitely a few factors that can help.
Let us talk about video content since it is one of the primary content formats that audiences consume, supported by stats that show that over 92.7 of people on the internet watch videos every week. There are multiple platforms to post videos, the first deciding factor for virality and reach depends on which channel you choose to host your video. One of the most popular platforms is Instagram. It has wide number of users, its algorithms support trending content and the audiences are on the platform looking for popular content to entertain them.
Now, if you are a brand or content creator looking to great video content on Instagram, what do you do to optimize your efforts and improve your chances to trend? Well, hire an AI video making assistant like Steve to do the hard work while you spend your energy on being as creative as you can!
You can go directly from text to Instagram video with Steve in minutes, at a fraction of conventional costs AND you have the option to choose from a variety of content formats such as live-action and animation.
And, all it takes is 5 simple steps. Let us go through the steps to create an Instagram video to understand the process better.
Steps to create an Instagram video from text
Step 1
Login to Steve.AI using your e-mail id.
You will now see your dashboard where you can begin creating your video with AI.
Step 2
You can choose between live action visuals and animated visuals at this stage. For the vertical format that is preferred for Instagram reels, live visuals are more suitable whereas animated visuals look great on the horizontal format.
Let us choose the Live section and click on the Start button in the Script to Live video section.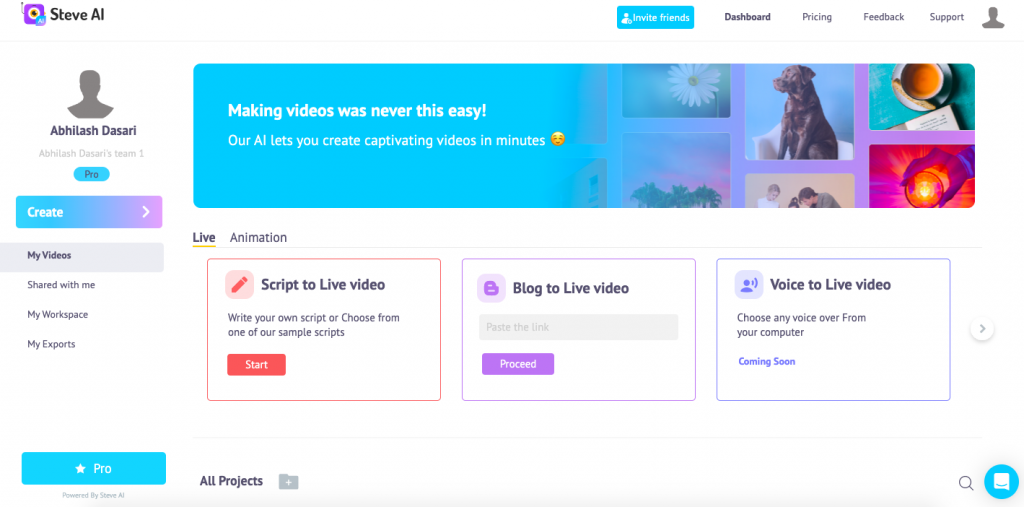 Step 3
Now, you are at the Script page where you can simply copy-paste your script and the AI divides it into scenes. You can also choose from our library of over 200+ popular script templates and tweak the content on the scenes. Let us choose from a script template for social media here.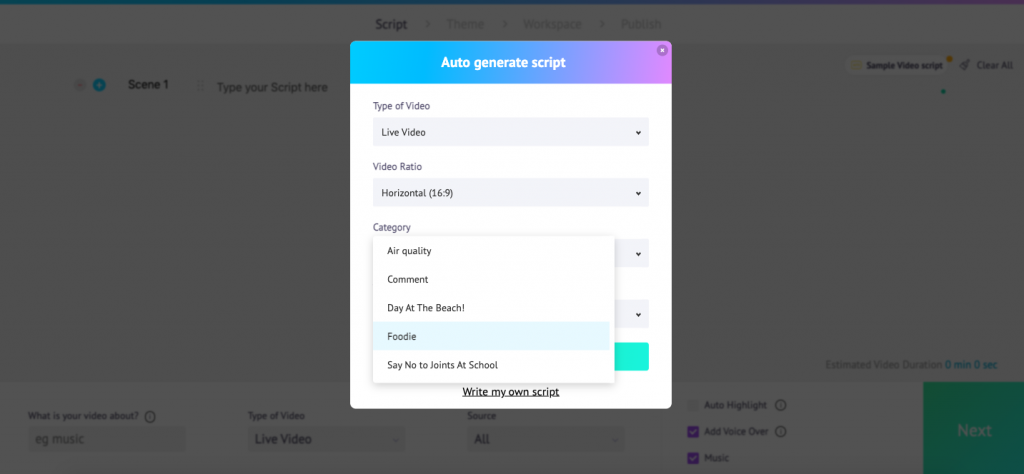 Once script is sorted, select the options you need such as music, voice-over, visual source as per your plan subscription, etc. Most importantly, enter the most relevant keyword for your video content to help AI understand the overall context better.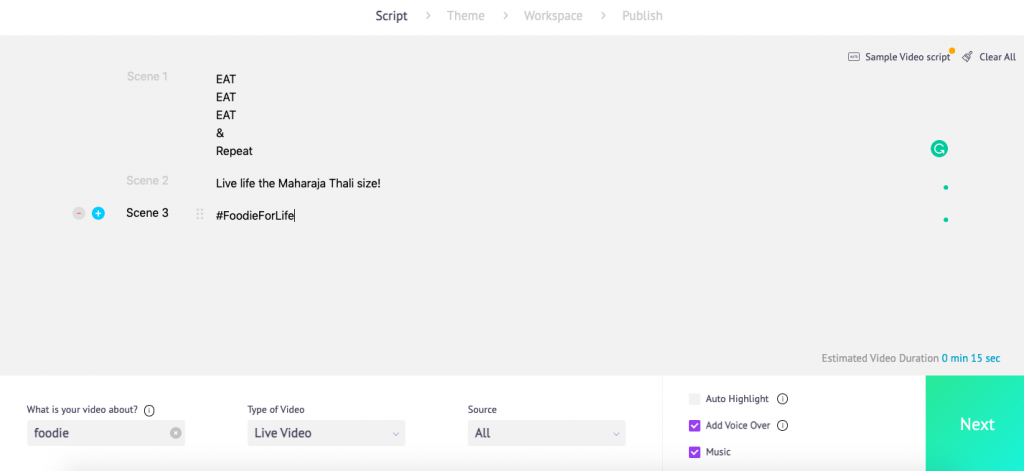 Click on Next.
Step 4
You can now see a set of video templates to choose from, click on the one you like and voila! The AI creates your video from the script in less than a minute!
On your Workspace, you can review each scene and customize colours, scene length, add/delete scenes, and so much more with the options on the side of your scenes! You can also add your own music tracks for trending reel audio by clicking on the Audio section at the bottom.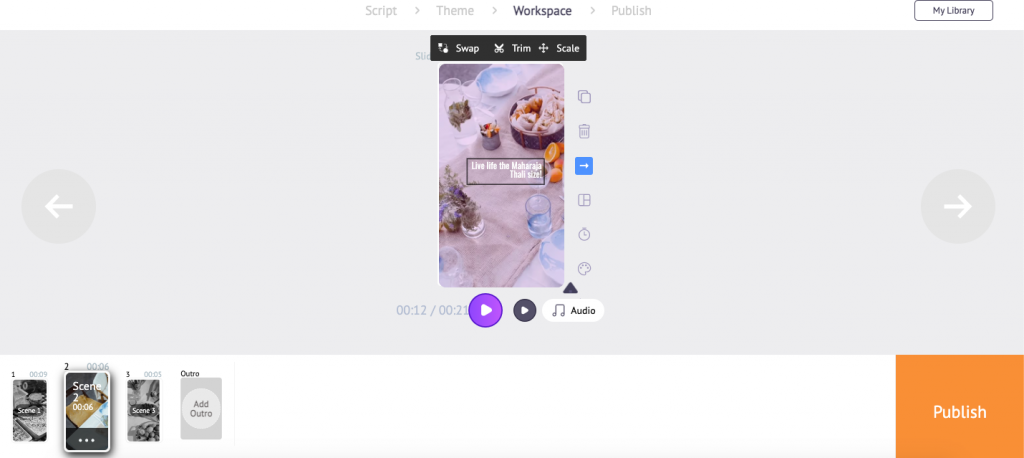 If you wish to change the visuals of your scene, you can simple click on Swap and search from millions of media assets to choose the exact visual you want.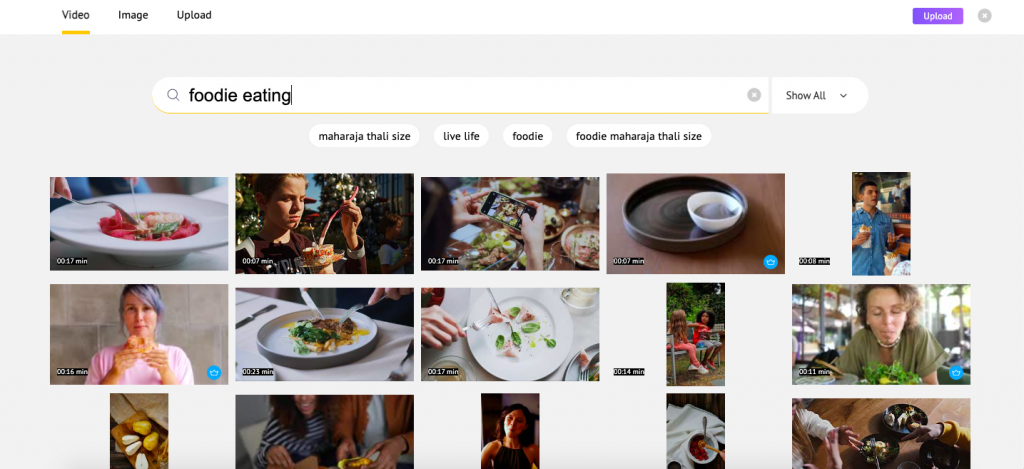 Step 5
Once you have made the required changes, if any, hit Publish and Steve will take you to the download page. Here, you can preview the full video one more time and click on Download.
Sit back and watch Steve completely take care of rendering and finishing the video. You will get your final high-quality video in a few minutes that you can share on Instagram! It is the perfect mix of human creativity and AI coming together to create content, isn't it?