Script to YouTube Video in under 5 minutes with AI
YouTube has been one of the fastest-growing digital platforms in the last decade. It has catalyzed the creator economy like nothing else and is one of the most popular platforms for content creation and consumption.
Did you know? The global number of Youtube users was forecast to continuously increase between 2022 and 2028 by a total of 346 million users! Clearly, it continues to be a great time for anyone with an interest in content creation to strategically include YouTube in their plans.
But, while YouTube content is synonymous with video content, content creation itself is multi-faceted. Different creators have different skillsets and video creation might not always be one of those. So then, how does one create content for YouTube in such cases? Should you hire a video editor, a video producer or animator? Well, you could do that and spend a bomb on resources or hire your own video making AI at a fraction of the cost or even for free!
With AI tools like Steve, video creation is more accessible than ever to literally everyone! Whether your strong suit is scriptwriting, content ideation, creative direction or anything other than video creation, you can turn your content into video gold with Steve.
This tool takes you from script to YouTube video in minutes and requires minimal intervention. It is as simple as -> Enter script, review, edit if required, download!
Here is an example of creating an explainer video for YouTube from just the script as Steve does all the hard work of video production. 
Steps to create youtube video
Step 1
Login to Steve.AI using your e-mail id.
You will now see your dashboard where you can begin creating your video with AI.
Step 2
You can choose between live action visuals and animated visuals at this stage.
Let us choose the Live section and click on the Start button in the Script to Live video section.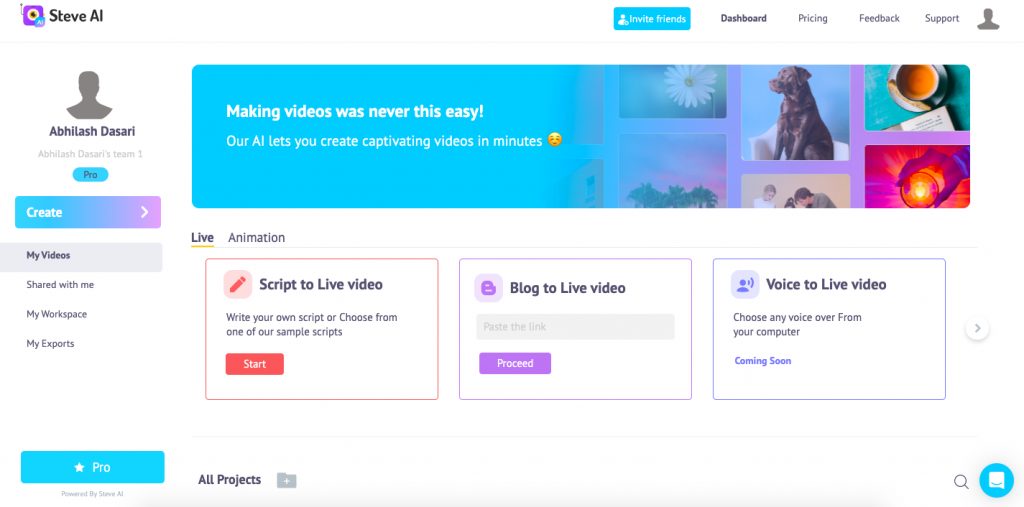 Step 3
Now, you are at the Script page where you can simply copy-paste your script and the AI divides it into scenes. You can also choose from our library of over 200+ popular script templates and tweak the content on the scenes. Let us choose from a script template for explainer video here.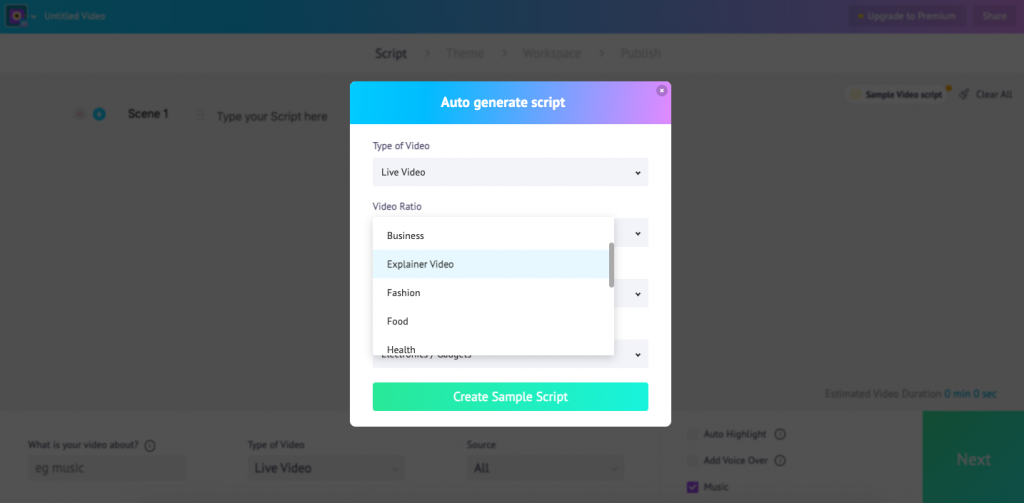 Once script is sorted, select the options you need such as music, voice-over, visual source as per your plan subscription, etc. Most importantly, enter the most relevant keyword for your video content to help AI understand the overall context better.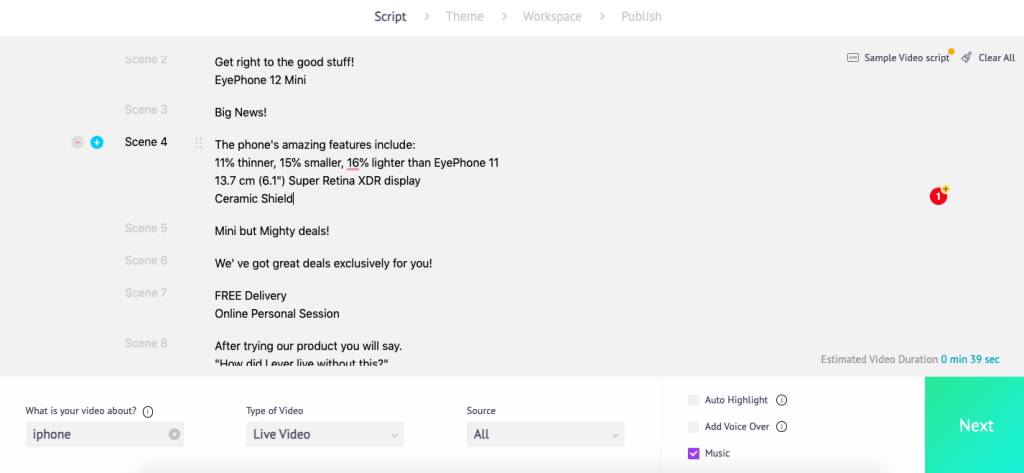 Click on Next.
Step 4
You can now see a set of video templates to choose from, click on the one you like and voila! The AI creates your video from the script in less than a minute!
On your Workspace, you can review each scene and customize colours, scene length, add/delete scenes, and so much more with the options on the side of your scenes! You can also add your own music tracks by clicking on the Audio section at the bottom.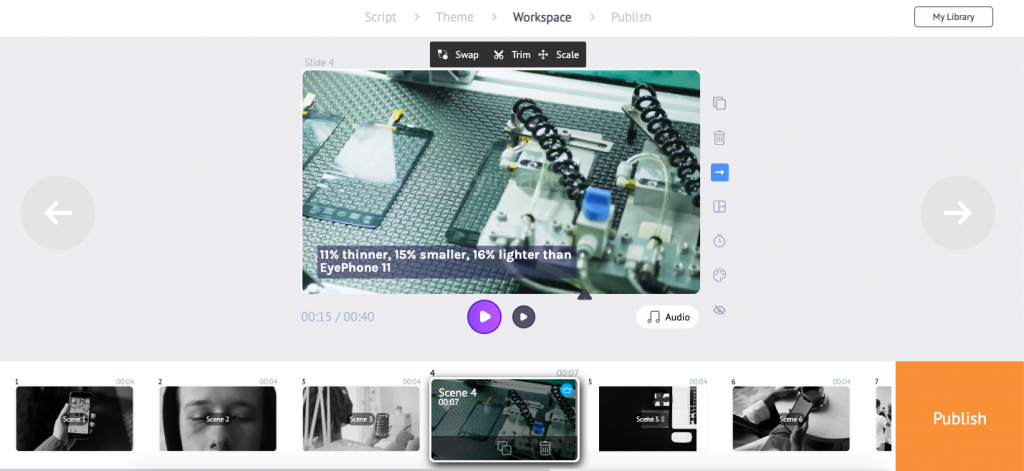 If you wish to change the visuals of your scene, you can simple click on Swap and search from millions of media assets to choose the exact visual you want. You can also upload your own visuals for some scenes.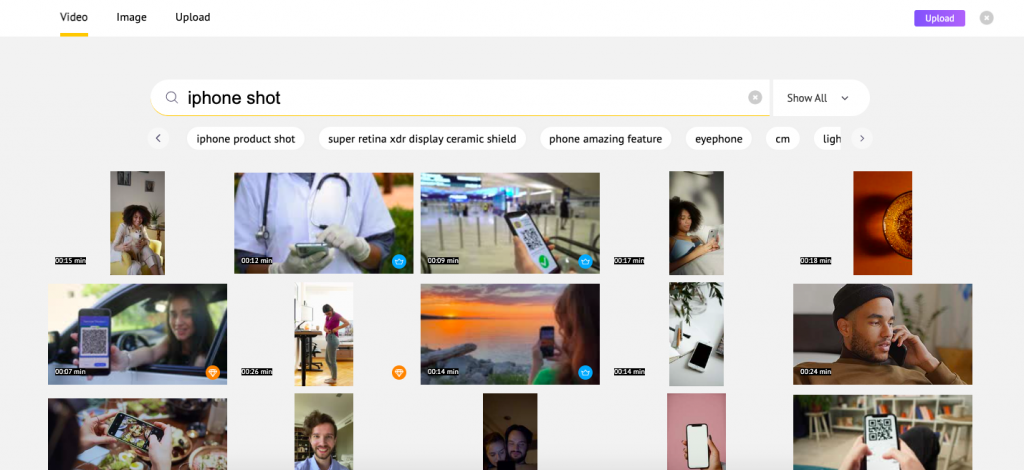 Step 5
Once you have made the required changes, if any, hit Publish and Steve will take you to the download page. Here, you can preview the full video one more time and click on Download.
Sit back and watch Steve completely take care of rendering and finishing the video. You will get your final high-quality video in a few minutes that you can share on YouTube!
This is truly the best of AI and human creativity coming together, isn't it? So, have you put your AI video making assistant to work yet?