How to create YouTube intro using free video ad maker without watermark
When it comes to content creators and the digital content eco-system in general, YouTube is the OG in many ways! As Google quoted early on, in 2006, YouTube was indeed "the next step in the evolution of the internet". It grew exponentially, created a way for content creators to actually make money through content and continues to be one of the most powerful content-sharing platforms!
Today, there are over 50 million YouTube channels and that number is grew by 36% in the last year. And, more and more content creators are joining the club to bring together communities and connect with various kinds of audiences.
Intro videos – To standardize your content
For content creators or aspiring ones, one of the main ways to grow is by creating consistent, relatable content that has a clear voice.
Intro videos set the tone & style for your video communications and help to instantly connect with audience.
With Steve AI as your free video ad maker, video production is delegated to AI that understands context and converts script to video in minutes. But more specifically to YouTube, it is also a great tool to make amazing intro videos that really set your content apart and become your signature in a sense.
For the existing audiences, intro videos are a way to instantly connect with your style and establish trust. For new viewers, they define who you are and sets expectation for your content in a great way
Creating a stunning animated YouTube intro in minutes with Steve AI
So, how do you create, not just any intro video, but a watermark-free animated intro video with amazing visuals that will be a great addition to your content strategy?
Let us go through a step-by-step guide on how to do just that with Steve AI in no more than a few clicks:
Step 1
Login to Steve AI and you will see your dashboard. Here, select the Animation tab and click on script to video.
Step 2
Write down a crisp script of 2-3 lines that summarize your overall content and can work well as an intro for your videos.
Give a keyword related to the video to help AI understand the context better. Select music, voiceover and image source as required.
Step 3
Select the video layout template. And in less than 10 seconds, your video draft is ready!
Play the video and swap the visuals in a single click. You can choose to edit the character (both human and animal), the expressions, the placement of animation, the animated elements, etc from a huge library.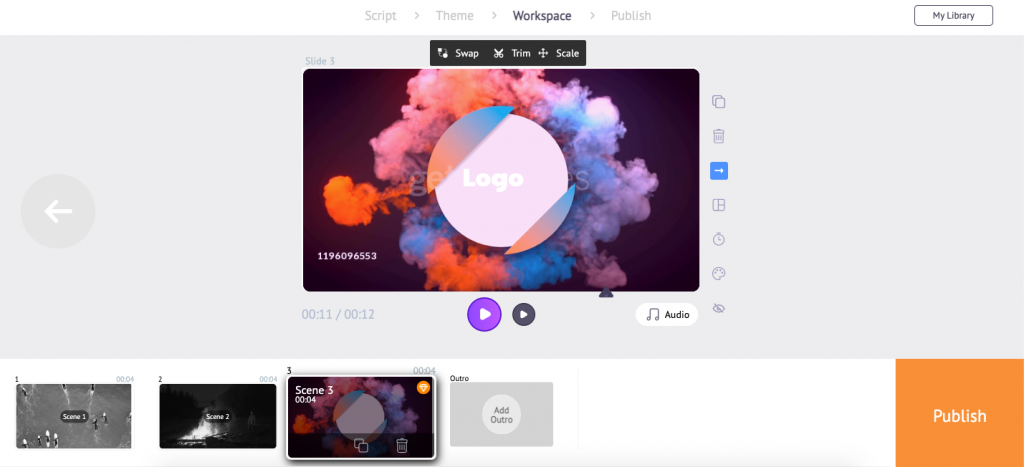 Pro tip: Add your personal or professional brand logo by uploading it into the video.

Step 4
Once the customization is done, click on Publish and sit back as Steve AI renders the final video for you in a few minutes. Finally, download the intro video and the job is done!
What are you waiting for? Create that intro video and take your content to the next level now!