How to Create a Product Comparison Video in Minutes using AI
The general buying process for a customer is simple – you find a need to fulfill, come across/explore products that can fulfill the need, zero down on the product that best suits you, and then you buy. But, if you zoom in on the process a little, one important step that happens between exploring products and actually purchasing is the comparison of different products.
Now, as a business, it is here in the comparison stage that one can stand out and really take the opportunity to convince potential customers about why what you are offering is best in class. And, one of the best way to do this is through videos!
A marketing survey has shown that a whopping 84% of marketers said they used video as a way to market their product/service and 78% of them said it directly improved sales. By creating content that compares your product with direct competitors and highlighting your USPs, you can ensure that your audience gets the right message and improve their chances of becoming patrons of your product/service.
But with the costs that video making requires and the amount of time it takes to create good quality videos, are videos really worth it? Well yes, conventionally videos are expensive to produce, especially if you are looking for great-quality output. What do you do when you don't want to compromise on quality but want to optimize your video making process? Well, Steve says hello!
It takes a fraction of time, cost and resources to create stunning videos with Steve and you can do this in just 4 simple steps! It is truly your AI video making assistant.
Now, let us see how to make a product comparison video with Steve in a matter of a few minutes.
Steps to make a Product Comparison Video
Step 1
Work on the script for the video by comparing two products you want to review. List down the strengths and weaknesses of each and bring out the USPs of the products in the script.
Login to Steve.AI with your e-mail id and select the Live or Animation tab as per the kind of visuals you want.
Let us select Live Action visuals for this example. Click on the Start button in the Script to Live video section.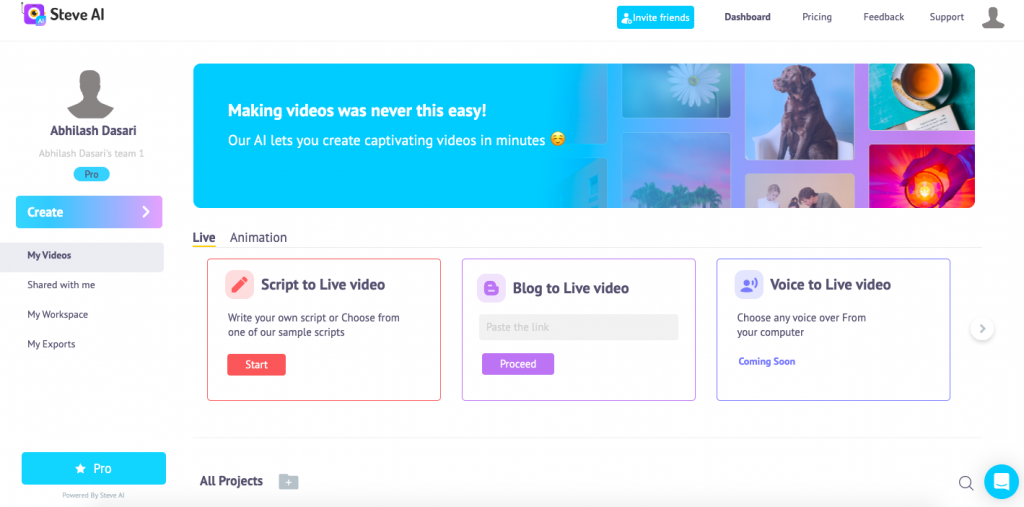 Step 2
Now, on the script page, copy and paste the script and watch the AI divide it into scenes automatically. You can of course tweak the text in the scenes and finalize it here.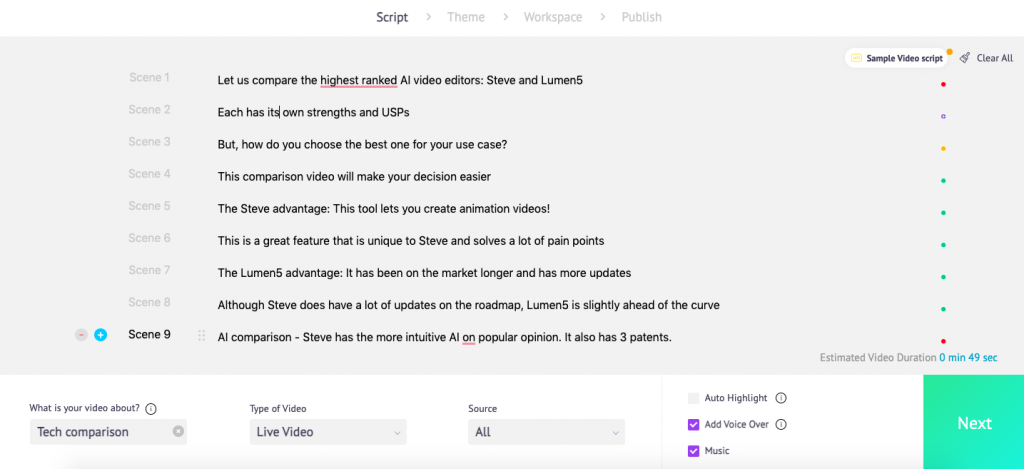 Enter the keyword at the bottom of the page to help the AI understand the context of the video better and select the perfect visuals. Select the other option provided on this page to add music, voice-over, choose visuals according to your current subscription plan, etc.
Click Next to select the video template.
Step 3
Once you've selected the template, your video is generated by the AI in less than a minute!
On your Workspace, review the scenes created by the AI and check if you need any changes.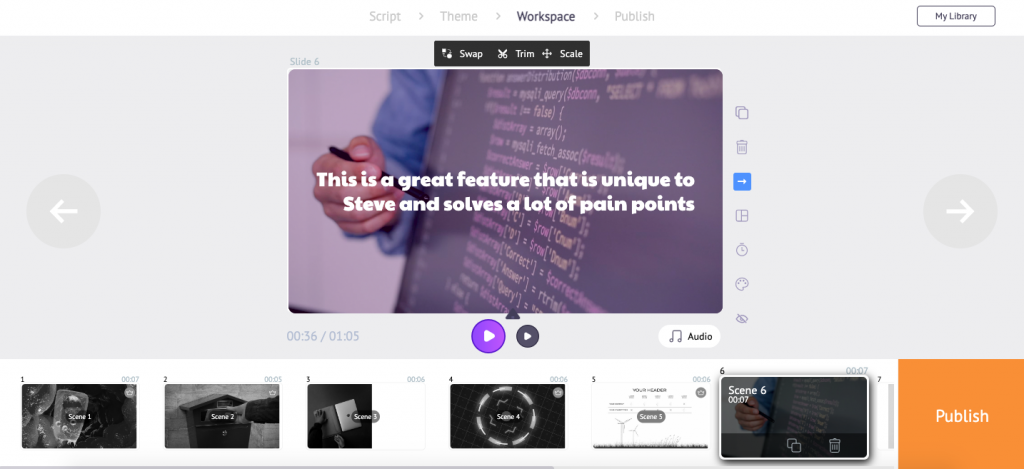 If you do want changes, you can swap the visuals in any scene by just clinking on Swap and selecting alternate visuals from over 10 million video and image assets! The easy search bar lets you sift through the exact kind of visuals you need and choose easily.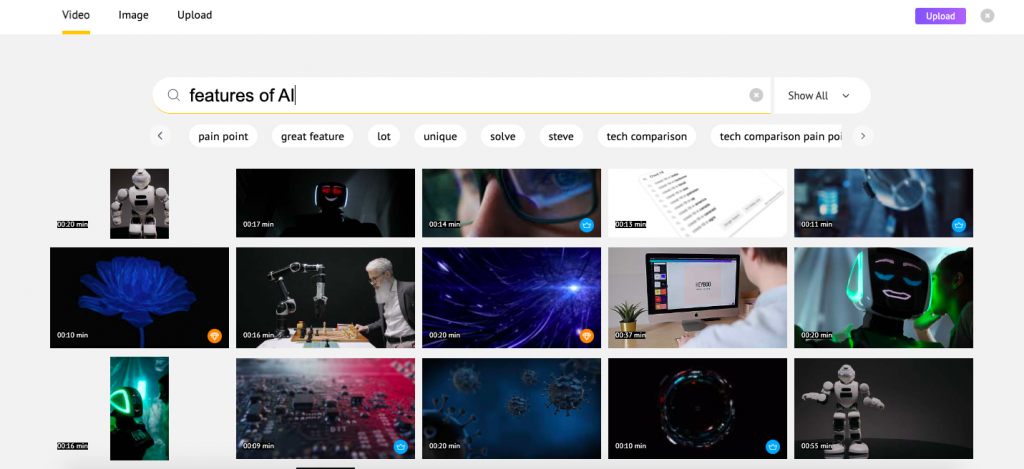 You can also upload your own product images where required on the Upload section.
Step 4
Once you have made any changes that you need, click on Publish.
You can now preview your final video, select the output quality that you need and hit Download.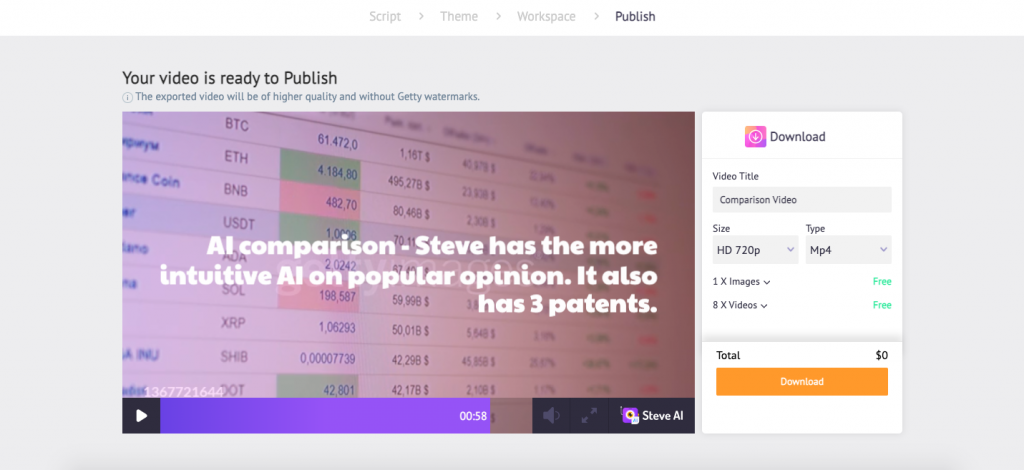 Sit back and relax as Steve does all the finishing and rendering and gives you your video ready to be shared on all your platforms!