What is Lyrical Video? How to create Lyrical Video?
Did you know that lyrical videos are one of the most watched and searched video types on YouTube?
Lyrical videos, which are essentially music videos that display the lyrics in sync, are watched by millions of people everyday. In fact, data shows that between 2017 and 2018, the number of minutes of people watching lyrical videos on YouTube crossed 3,100 years of watch time!
If you are a music creator, content creator in the entertainment genre, or just any one looking to create videos that highlight lyrics, let people can sing along, or simply vibe along, making a lyrical video would be a great way to engage and entertain your audience. You can also create lyrical video for personal use for karaoke parties, get-togethers, entertaining kids, etc. 
But, how can just anyone make lyrical videos without learning video production, editing, rendering, and all that technical stuff, you ask? Well, that is exactly why you have Steve, your very own AI video making assistant!
You can go from entering the lyrics to a full fledged lyrical video filled with rich visuals and auto-synced music in a matter of minutes! Let us see how you can do that in these 4 simple steps.
Steps to create lyric video
Step 1
Login to Steve.AI using your e-mail id.
You can now see your dashboard. Here, choose either the animation or the live tab depending on the visuals you want. Let us go with live visuals for this example.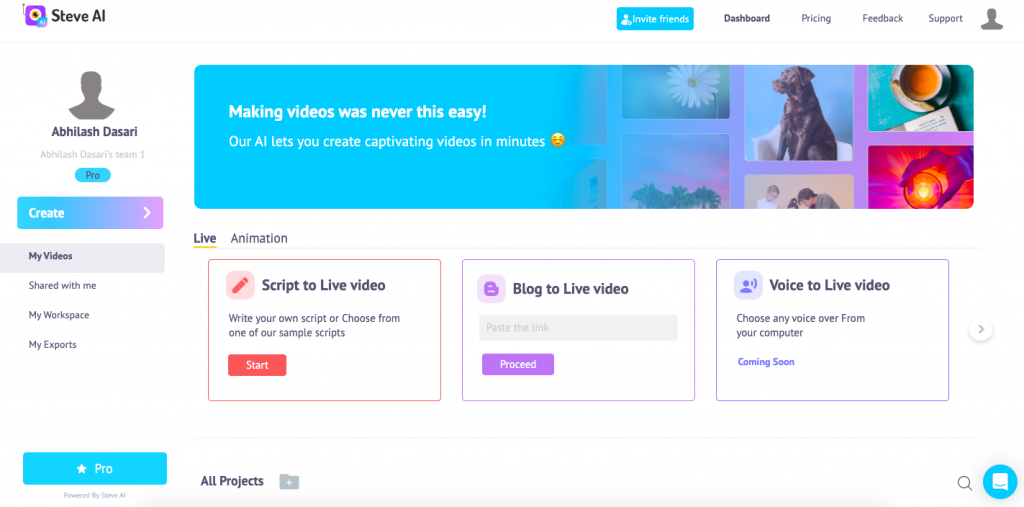 Click on the Start button in the text to live video section.
Step 2
You now go to the script page where you can simply copy paste the lyrics of the song, which Steve divides into scenes, or type out the lyrics.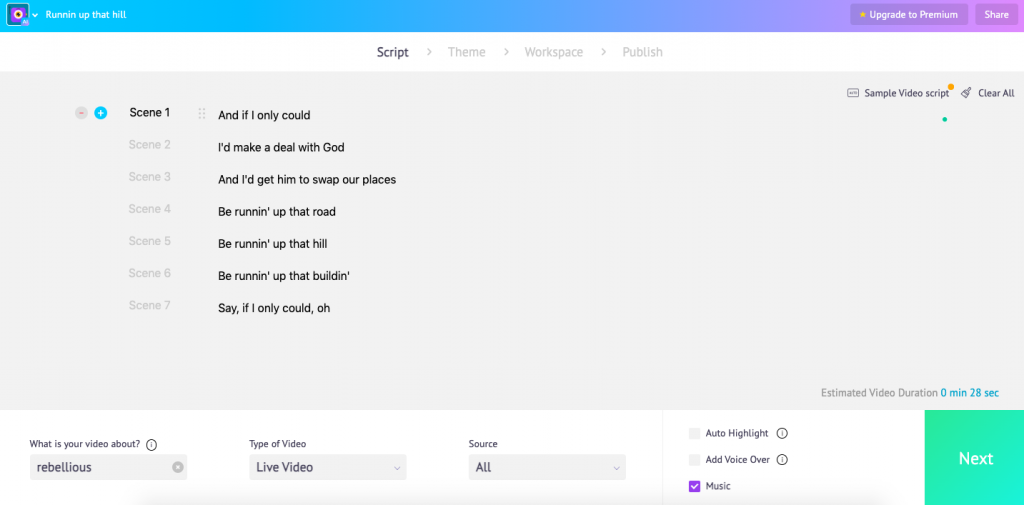 On the same screen, select the options you need such as music, voice-over, visual source as per your plan subscription, etc. For the music, you can select the option on this screen and upload your own music track as we will see in the next step.
Enter the most relevant keyword for your video content to help AI understand the overall context better. This will lead to the perfect visual assets added to your video.
Click on Next.
Step 3
You can now see a set of video templates to choose from, click on the one you like and voila! The AI creates your lyrical video from the script in less than a minute!
This screen is your workspace where you can click on the audio section and upload your music track to the video which Steve automatically syncs.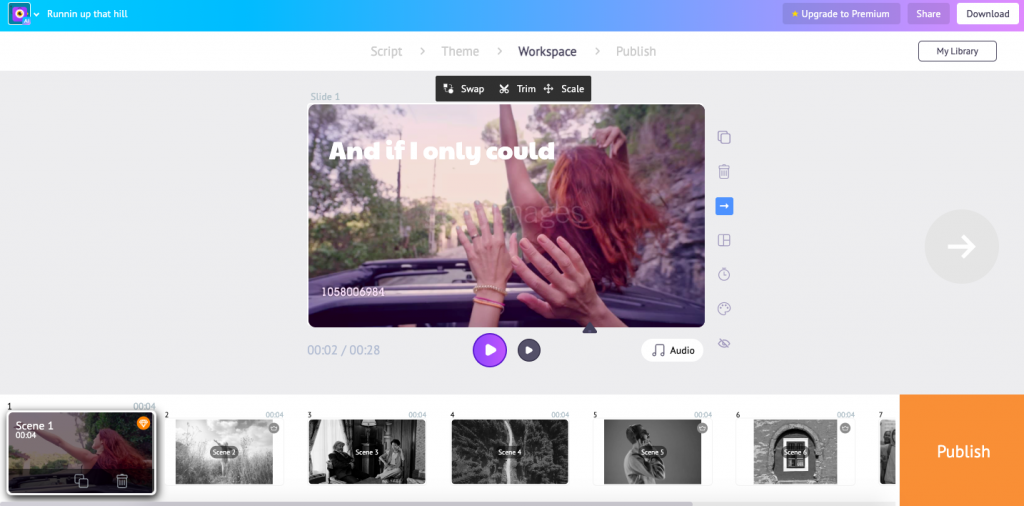 You can also review every scene, swap video or image assets on any scene necessary from a library of over a million assets, check the text on the screen, check the layout and ensure the video is perfect.
You can increase or decrease the scene lengths to see that the lyrics are easy to follow. You can also add or delete scenes to make any changes you need.
Click on Publish.
Step 4
Your final video is now ready to be downloaded, click on download after choosing the required video quality and Steve does all the work for you to give you a spectacular video that you can share on any platform!
That was simple! You can explore Steve to create a lot of great animated and live content like this, your creativity is the limit! Have you tried it yet?